MINOXIDIL 2%, A SOLUTION FOR HAIR TO GROW THICKER AND MORE BEAUTIFUL
It is difficult to accept thinking of the "no hair" sight on the head, especially for women who appreciate their appearance. That is why there are various products advertised to help prevent hair loss and stimulate hair growth on the market today. Minoxidil is one of the FDA-approved topical medications for the treatment of hair loss in both men and women. In this article, let's find out more specifically about Minoxidil 2% hair loss medicine for women!
1. WHAT IS MINOXIDIL 2%?
Minoxidil was first introduced as an oral medicine to help treat hypertension but scientists developed Minoxidil as a topical solution applied in the treatment of hair loss to help hair grow in 1987. Minoxidil has been used globally for over 30 years and is the only FDA-approved topical medication for the treatment of male and female baldness. Many studies have also shown that using Minoxidil gives over 60% effectiveness in preventing hair loss and stimulating hair growth.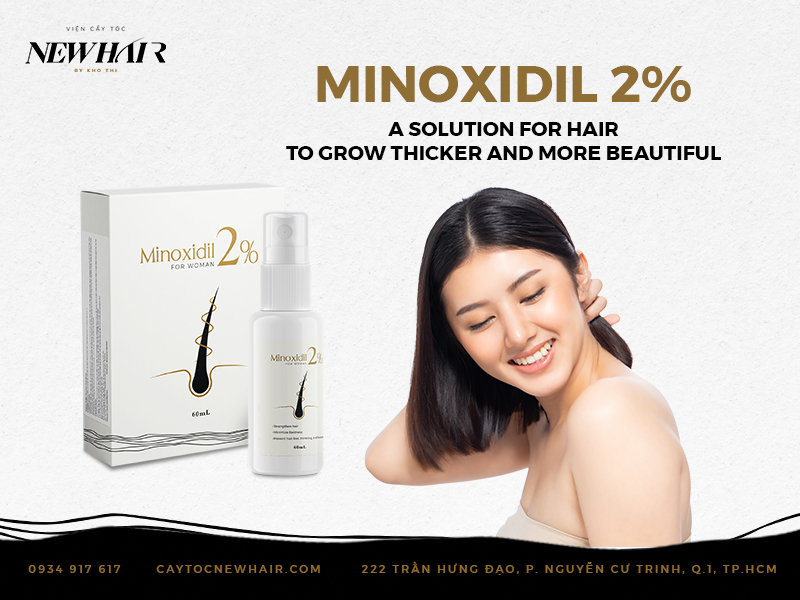 In general, Minoxidil is a topical solution that helps improve hair loss and baldness. Using Minoxidil helps stimulate the growth of keratinocytes and prolong the first stage of the hair cycle. Besides, Minoxidil also has the effect of dilating peripheral blood vessels, thereby stimulating endothelial growth factor, promoting hair growth, and accelerating the growth of hair follicles.
In countries such as the United States, Europe, Japan, Korea and others, Minoxidil is registered as a medicinal herb. When using it, you apply the solution directly to the hair and the effect will be seen after about 1-2 months. On the market today, Minoxidil has two concentrations, 2% and 5%. Minoxidil 2% is designed for women while Minoxidil 5% is for men.
For most women, Minoxidil 2% will help slow down and stop hair loss. In fact, Minoxidil 2% is also effective in improving hair quality and increasing hair thickness.
2. USES OF MINOXIDIL 2%
In 1998, Minoxidil 2% was approved as an over-the-counter medication for the treatment of hair loss. Minoxidil will maximize its benefits if you use it on the scalp. When being applied to the scalp, Minoxidil will work by activating and stimulating the secretion of capillary growth factors such as VFGF, so the capillary system that nourishes hair follicles will be denser.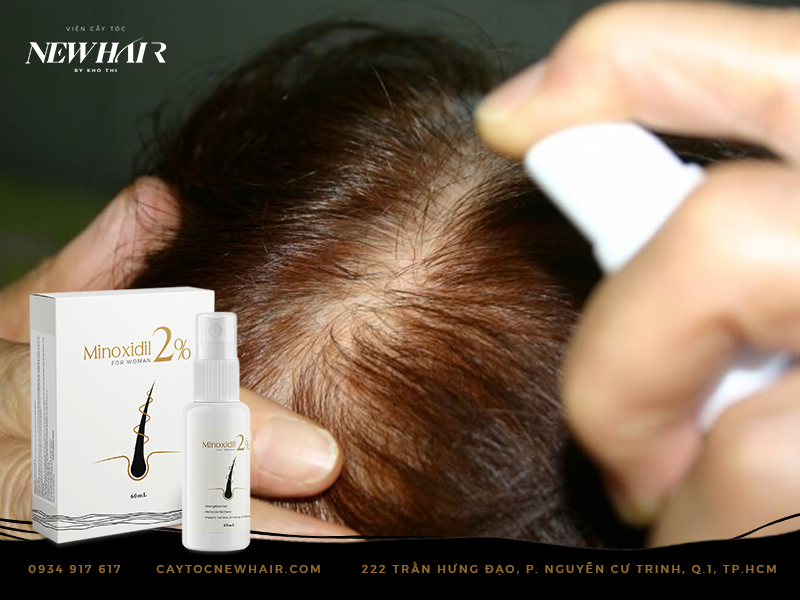 Minoxidil 2% is ideal for use in the early stage of hair loss. Unlike other hair loss shampoos or temporary hair thickening products affecting hair from the outside, Minoxidil 2% has the ability to penetrate the scalp to help reactivate atrophied hair follicles, then promote hair follicle development and produce protein for hair, thereby helping hair regrow effectively.
Besides, Minoxidil 2% is also appreciated for its ability to improve hair quality, increase hair thickness, and help hair roots become stronger. Particularly for hairs that are in the telogen phase when hair is about to fall out, Minoxidil 2% will help prolong this phase.
3. WHO SHOULD AND SHOULD NOT USE MINOXIDIL 2%?
3.1 Who should use Minoxidil 2%?
Minoxidil 2% is indicated for use in women with moderate hair loss and is most effective in those under 40 years of age. The following are specific subjects suitable for the treatment of hair loss with Minoxidil 2%
Female suffering from androgenic alopecia
Those having regional hair loss
Those having scarred hair loss
Those having hair loss due to chemotherapy treatment
Those using the product after hair transplant
Those having had hair loss for less than 5 years and still have hair follicles under the scalp.
Those needing to improve hair quality and hair thickness.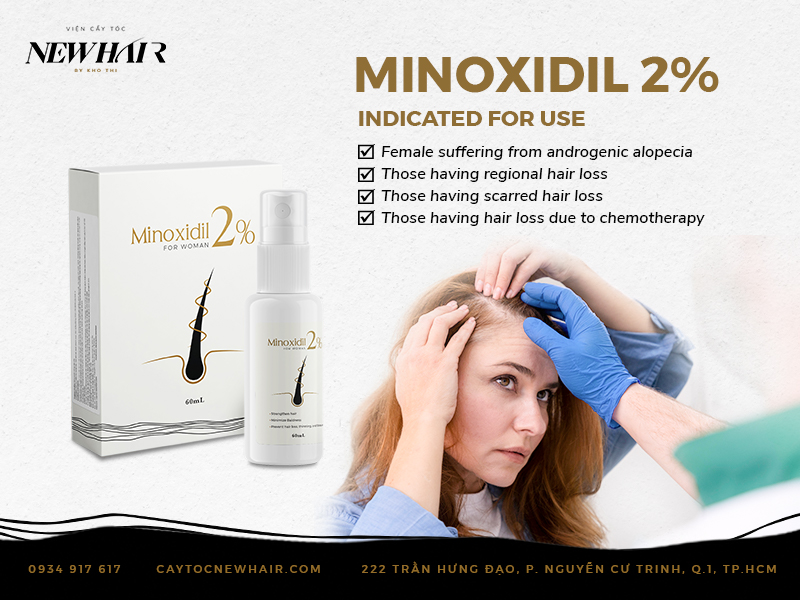 3.2 Who is not suitable for using Minoxidil 2%?
People under 18 years old or children.
Those with sudden or patchy hair loss
Those with red, inflamed or irritated scalp
You should consult your doctor before taking Minoxidil 2% if you fall into one of the following cases:

Used to or are suffering from heart, kidney or liver disease.
Have allergy to ingredients in Minoxidil 2%
Are taking medications, especially blood pressure medications.
Are taking vitamins.
Are pregnant or breastfeeding.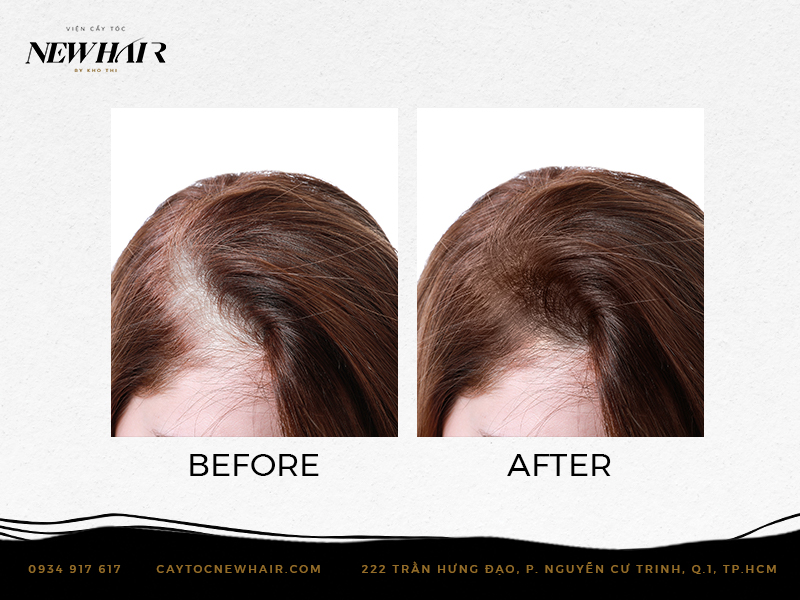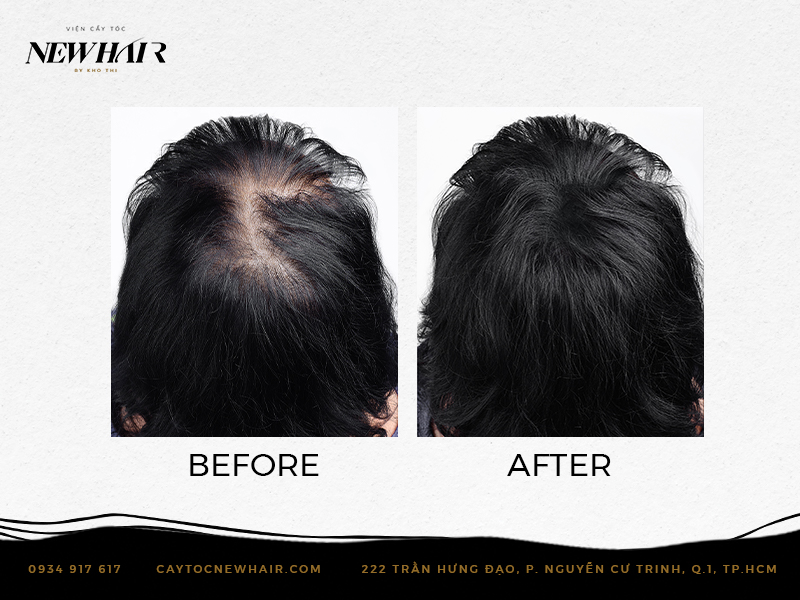 4. HOW TO USE MINOXIDIL 2%
To ensure the best treatment results, you need to know how to use Minoxidil properly according to the following instructions:
Before applying the medicine, keep your hair and hands completely dry.
Open the Minoxidil cap and remove the nozzle on the pump. Next, attach a sprayer and press it firmly. Direct the sprayer to the hair loss area, press the sprayer once and use your fingertips to spread the medication over the area to be treated. Repeat the action 6 times to achieve a dose of 1 ml. To make it easier for the medicine to reach the scalp, you can divide your hair into small sections. After you have applied Minoxidil, remove the sprayer. Finally, close the lid after use.
After you finish applying Minoxidil, wash your hands carefully with soap and warm water to remove any remaining Minoxidil from your skin. Although Minoxidil can improve hair growth, it does not cure baldness. To maintain results, you need to continue using Minoxidil daily. Normally, if you stop using it, you will lose your "new" hair in a few months.
When using this product, please remember to:
Avoid applying Minoxidil 5% to other parts of the body.
Avoid inhaling the medicine.
Avoid contact with eyes. In case of accidental contact, rinse it with large amounts of cool tap water.
Use Minoxidil before using hair gel, which is recommended.
Avoid smoking or fire immediately after use since the product may catch fire.
Notice that for the first time you use Minoxidil, your hair may change in color or texture.
Use Minoxidil continuously for at least 4 months since results do not show up immediately.
Discontinue and consult a doctor if the following symptoms occur:

Chest pain, fast heartbeat, fainting or dizziness.
Sudden unexplained weight gain.
Swelling of hands or feet.
Scalp irritation or redness.
Unwanted facial hair growth.
5. SIDE EFFECTS OF MINOXIDIL 2%
Some of the ingredients in Minoxidil 2% may cause you to experience several side effects, such as:
Facial swelling, body itching, angioedema, and tongue swelling.
Headache, dizziness, and depression.
Shortness of breath, chest tightness, low blood pressure, and palpitations in the chest area.
Dry scalp, peeling or temporary hair loss
Although there may be a few side effects, Minoxidil 2% is considered a simple anti-hair loss solution that many people use. As long as you use the correct dosage, it will ensure the effectiveness and safety.