MICRO-SPOT HAIR CELLS INJECTION – A HAIR GROWTH STIMULATION TECHNOLOGY CERTIFIED BY FDA
Hair is one of the first organs affected by changes in the body. Compared to other parts, hair is often less noticeable until it falls out and gets remarkably thin. There are various remedies or cosmetic methods for hair loss, among which the highlight is the Micro-spot Hair Cells injection technology – a non-surgical hair growth method that has been approved by the FDA for its effectiveness.
If you still do not understand what Micro-spot Hair Cells is and what its benefits are, please refer to the article below.
1. WHAT IS MICRO-SPOT HAIR CELLS INJECTION?
1.1 What is Micro-spot Hair Cells injection?
Micro-spot Hair Cells injection is a method in which our doctors will use a Meso spray gun containing special nutrients to inject directly into the oily skin dermis in areas of thinning hair and weak scalp. The nutrients are vitamins, trace elements, Biotin, Peptides chains and others. Those substances activate the metabolism under the scalp, increasing excretion and detoxification, helping hair follicle cells multiply, and regenerate with faster intensity.
Micro-spot Hair Cells injection provides positive benefits to the scalp and hair. This method is considered one of the most popular applications in the treatment of hair loss and fighting against hair problems.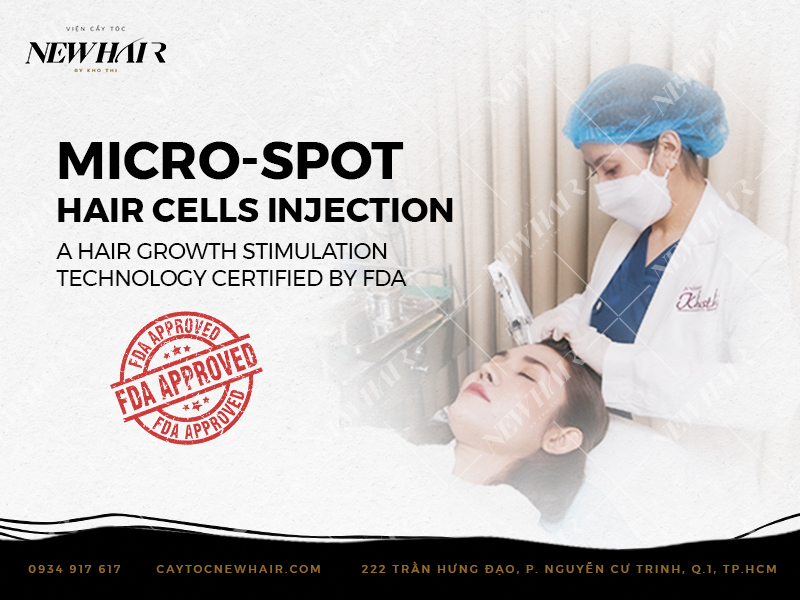 With Micro-spot Hair Cells injection, you can solve numerous scalp and hair problems, such as:
Prevent hair loss.
Accelerate the growth of hair follicles.
Restore damaged scalp areas.
Increase blood circulation to the hair follicles.
Normalize the function of the sebaceous glands of the scalp.
Fix dandruff itching.
Nourish healthy hair follicles before or after the hair injection procedure.
Micro-spot Hair Cells injection procedure has been researched to suit the condition of Vietnamese people and the method is performed by experienced specialists.
1.2. Nutrient ingredients used
There is no specific Micro-spot Hair Cells injection formula because before injecting, our doctors will examine and check the hair condition. Depending on the hair problem you encounter, the doctors will choose the most appropriate ingredients. However, in injecting Micro-spot Hair Cells, there will be basic components such as:
Hyaluronic Acid, also known as HA, helps to stimulate the growth and increase hair thickness, lessening dry and damaged hair. This active ingredient smooths the hair cuticles, making the hair stronger and less prone to breakage. With its miraculous moisturizing-retaining power, this ingredient is also effective in maintaining the balance of lipids, humectants and proteins necessary for hair strength.
Peptides chains help inhibit the activities of 5-alpha-reductase enzyme, then it revives hair follicles.
Amino Acids participate in the formation of keratin fibers and hair shafts.
Vitamins & minerals play an important role in cell metabolism, which supplement nutrition to help hair growth and health.
2.  THE MECHANISM OF MICRO-SPOT HAIR CELLS INJECTION
Micro-spot Hair Cells injection method provides nutrients directly to hair follicles and scalp. After the necessary substances are injected, the hair structure will absorb, recover, activate hair growth, and normalize sebum secretion. Immediately after the procedure, the scalp will be provided with nutrients to help nourish the hair follicle cells.
After the nutrients are infused into the scalp, NEWHAIR will use low-intensity Led light to shine on the scalp, thereby helping to stimulate the growth of hair follicle cells, healing damage and providing oxygen to the hair follicles. It also helps blood circulation on the scalp happen more efficiently.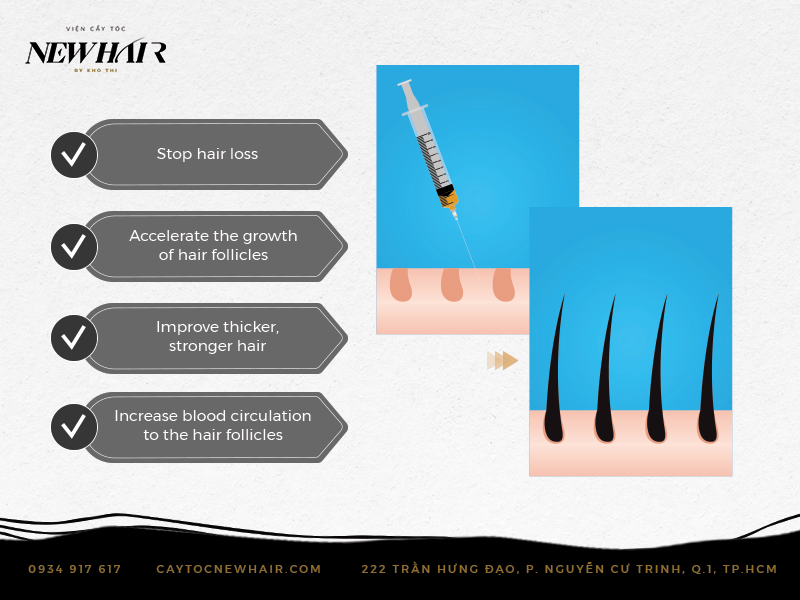 However, it should be noted that micro-spot Hair Cells injection will not be effective in case of no hair follicle under the scalp. It only has a positive effect when hair follicles are still under the scalp, weak or "sleeping", helping to prepare in advance for the hair injection procedure or maintain the results of the hair injection.
3.  WHO SHOULD AND SHOULD NOT USE MICRO-SPOT HAIR CELLS INJECTION
3.1 Who should use Micro-spot Hair Cells injection
Those with excessive hair loss due to scalp inflammation, folliculitis, dandruff, or increased sebaceous glands at the hairline.
Those who lose a lot of hair due to abusing hair care products, curling, straightening, dyeing and other reasons.
Women after giving birth and during menopause experiencing hair loss due to hormonal changes.
Those with hair loss due to hypothyroidism or iron deficiency.
Those who have hair thinning at the top of the head and at the temples.
Those with short, thin, weak hair.
Hair loss due to daily wearing of closed hats like road workers.
Hair loss due to long-term use of wigs causes hair loss and hair loss.
Hair loss due to hair pulling.
Hair loss due to stress, staying up late, or work pressure.
Hair loss due to increasing age.
3.2. Who are not suitable for Micro-spot Hair Cells injection
Those who have hair loss due to scar.
Women who are pregnant and breastfeeding.
Those who have streptococcal infection
Those with skin changes
Those treating the cerebral cortex, suppressing the immune system
Those getting cute arthritis
Those who have endocarditis
Those who have diseases, such as diabetes, cancer, anticoagulants and others.
4.  MICRO-SPOT HAIR CELLS INJECTION PROCESS
A Micro-spot Hair Cells injecting treatment usually takes about 90 minutes on average, every 2 weeks per session and a course will take place from 4 to 6 sessions. Below is the procedure of micro-spot Hair Cells injection:
Step 1: Examining hair follicles to determine the cause and extent of hair loss.
Step 2: Carrying out micro-spotting Hair Cells injection. A doctor will use a Meso spray gun which contains nutrients to inject micro-spots deep into the hair roots with micro-injections on the entire scalp area to be treated.
Step 3: Using led phototherapy with low intensity laser light for about 15 minutes.
Step 4: Consulting for home and setting an appointment for the next course of treatment.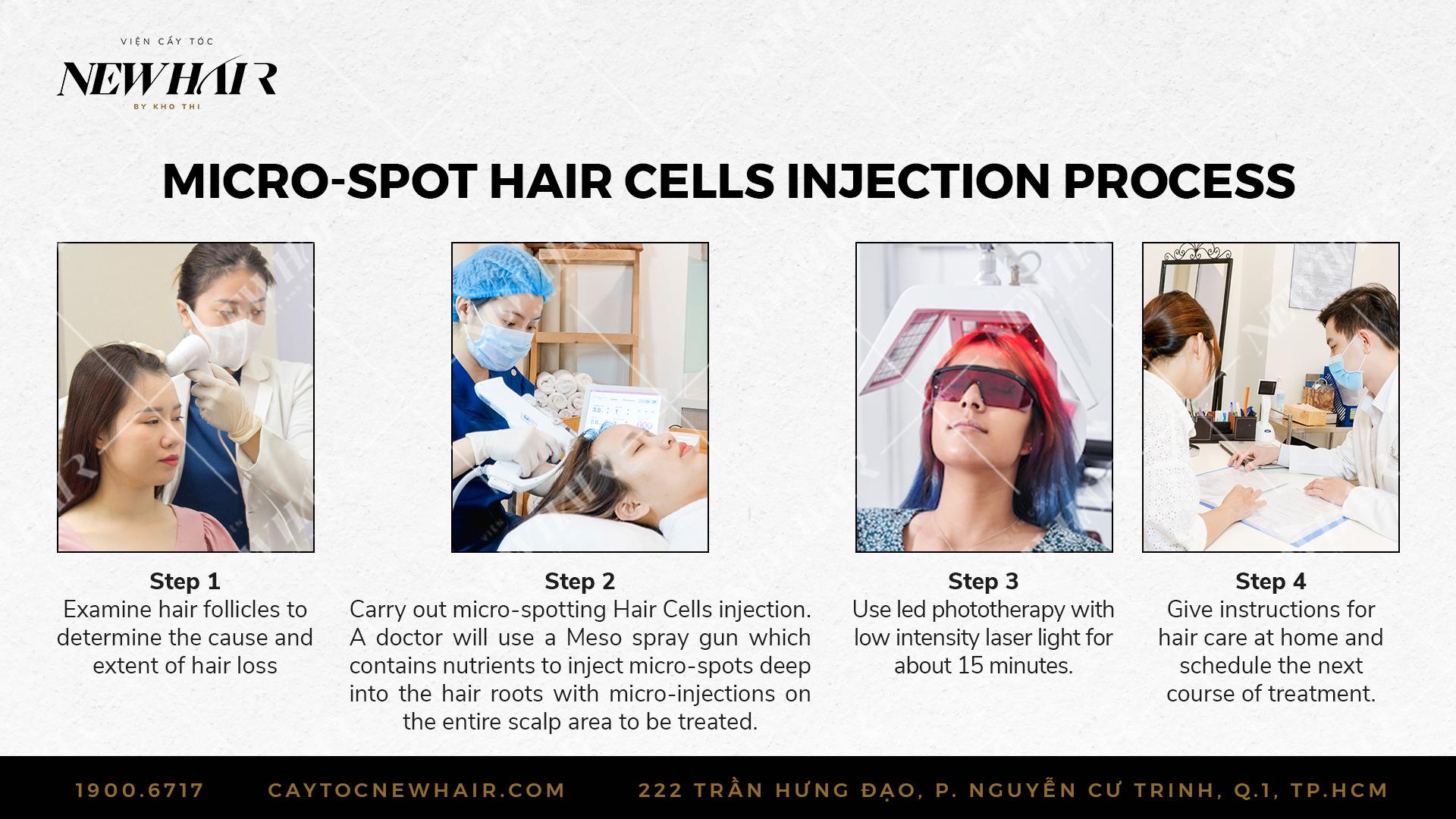 5.  WHAT SHOULD BE NOTED AFTER MICRO-SPOT HAIR CELLS INJECTION
After the procedure is over, your head will have small injection wounds which will take time to heal.
In the three to four days after injecting, do not wash your hair. Water and shampoo can negatively affect the results of micro-spot Hair Cells injection and delay the process of stimulating hair growth.
Minimize the exposure to direct sunlight on the scalp for the first 2-3 days.
Make sure to keep the scalp area dry during the first 10 hours after the treatment,
Do not use sauna or swimming pool for at least 7 days
Do not massage the injected area until the wound is completely healed.
Do not drink alcohol which will stimulate the capillaries and negatively affect the results of micro-spot Hair Cells injection.
If you need to find out more information about the Micro-spot Hair Cells injection, please call Hotline 1900.6717 or 0934.917.617 to register for service consultation.