Current hair transplant technology is divided into two types, natural and artificial hair transplant. However, in terms of effectively and thoroughly meeting the requirement of having permanent hair, the natural hair transplant method is the most effective for most people with baldness and hair loss. First off, we need to understand what hair transplant technology is and the benefits of this method.
1. What Is a Hair Transplant?
Hair transplant is a medical procedure performed to move healthy hair follicles from the donor area and transplant it into an area of bald, sparse hair. Beside giving thick and strong hair, this method is also used to restore eyelashes, eyebrows, and beards.
Natural hair transplant is the best solution to improve hair loss, thinning hair, congenital baldness or long-term physiological baldness by taking alternate hair follicles or patches of hair at the back of the head selectively, then separating healthy hair follicles and transplanting into areas of hair thinning or lack of hair. In other words, this is a natural hair transplant method, completely used with the patient's own hair to fill up the bald area.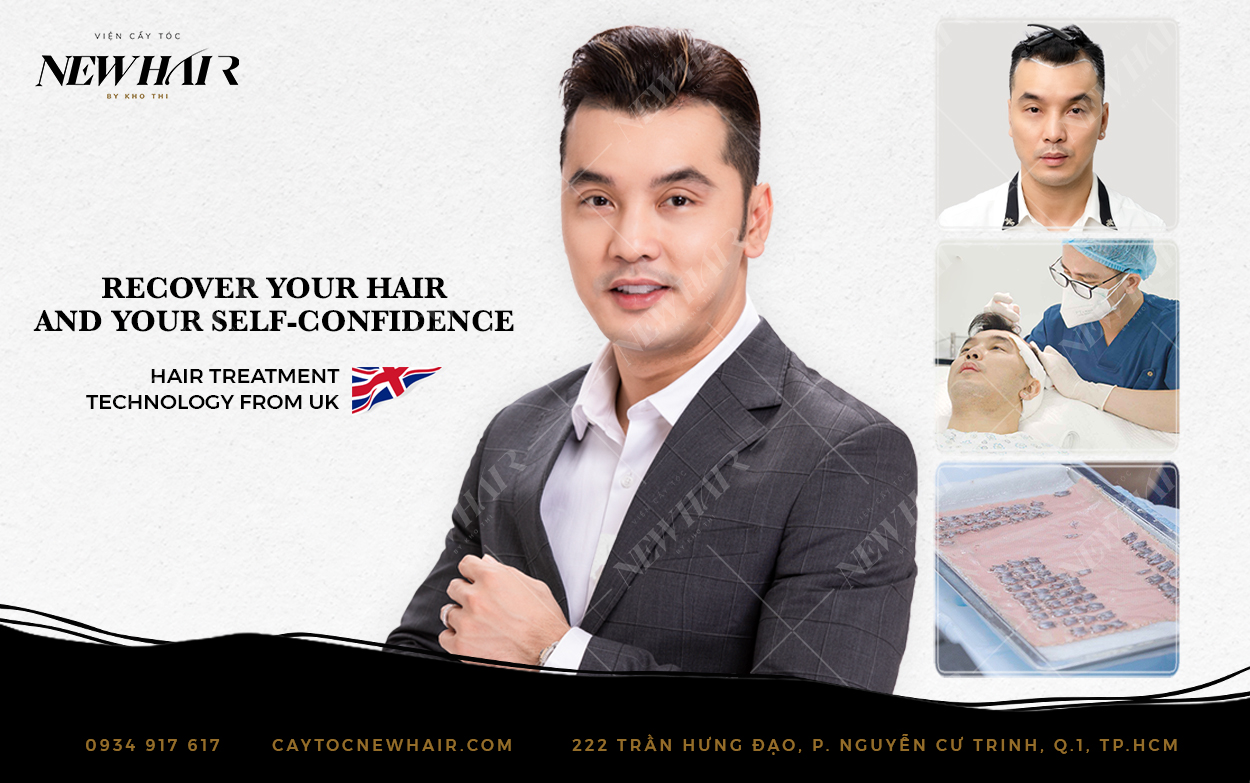 Natural hair transplant technology is suitable for both men and women, or those who need to overcome hair loss, thinning hair and especially baldness. Due to the use of one's own hair for hair transplantation, regardless of male or female hair transplant, the effectiveness of this method always ensures a successful transplant rate of up to 100%, and the rate of good hair growth after transplanting up to 95%.
In hair transplant methods, the technique of natural hair transplant is highly appreciated by doctors and experts because of its effective and safe application while still ensuring aesthetics. This is also the method used by NEWHAIR Transplant Clinic to completely overcome thinning hair and baldness. The old name of this method is Hair Balance of Kho Thi Hair Transplant Clinic.
2. Features of Autologous Hair Transplant Methods
Currently, there are 3 popular natural hair transplant methods, including FUE, HAT and FUT. Each of which owns its distinctive features of application.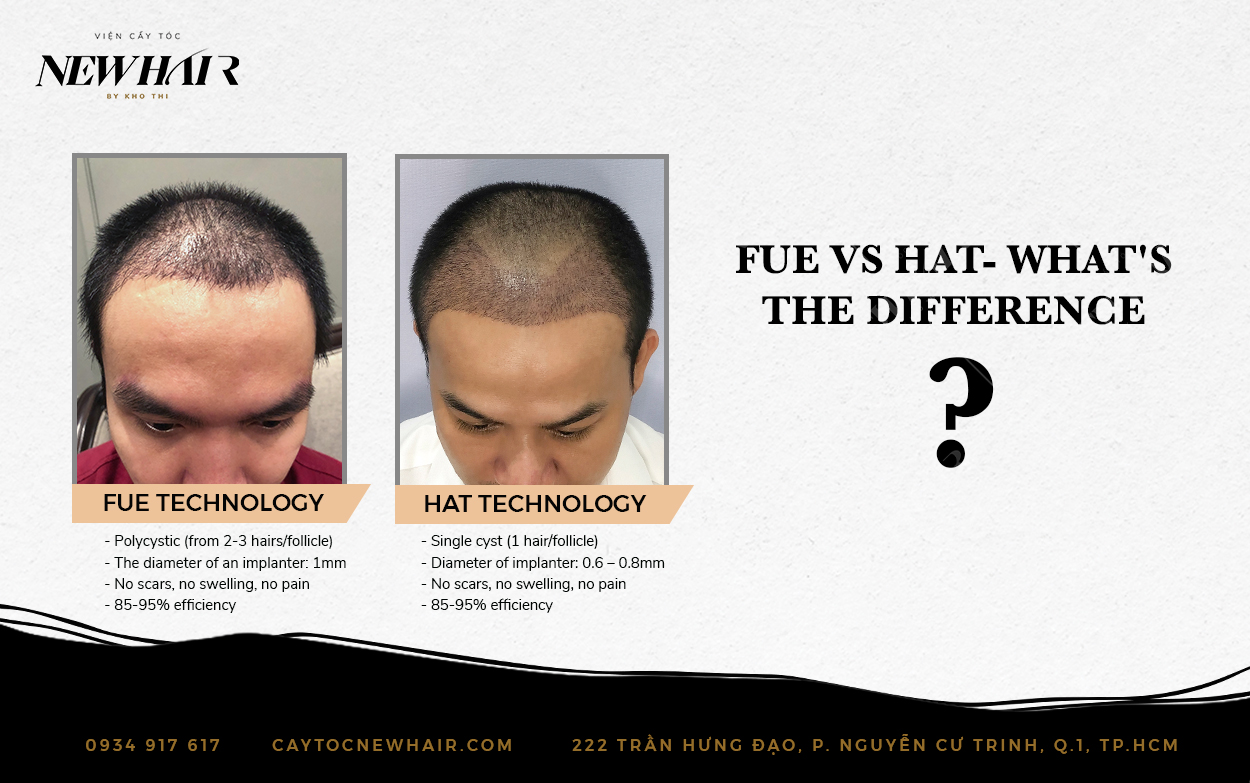 2.1. FUE Natural Hair Transplant
FUE (follicle unit extraction) is a non-invasive method that takes alternate hair follicles on the scalp. After selecting and separating healthy natural hair follicles, the doctor will proceed to transplant into areas of thinning or lacking hair. FUE technique does not require stitches or stripping of the scalp from the donor area. Moreover, it is a bleeding-free micron wound transplant technology, thus avoiding scarring and giving quick recovery after transplantation.
More information Cấy tóc tự thân FUE
Some features of FUE technology
Polycystic (from 2-3 hairs)
The diameter of an implant pen: 1mm
No scars, no swelling, no pain
85-95% efficiency
This is a non-surgical, minimally invasive, natural hair transplant method that does not cause pain and discomfort.
Using this method, the doctor will accurately calculate the number of hair follicles needed to remove and transplant into the bald area.
Customers with hair transplant according to individual hair follicles need a short operating as well as recovery time, without medical assistance.
After hair transplant, the rate of live and healthy hair growth is up to 95%.
After a certain period of time, hair grows completely normally, naturally.
Time taken: 4-8 hours.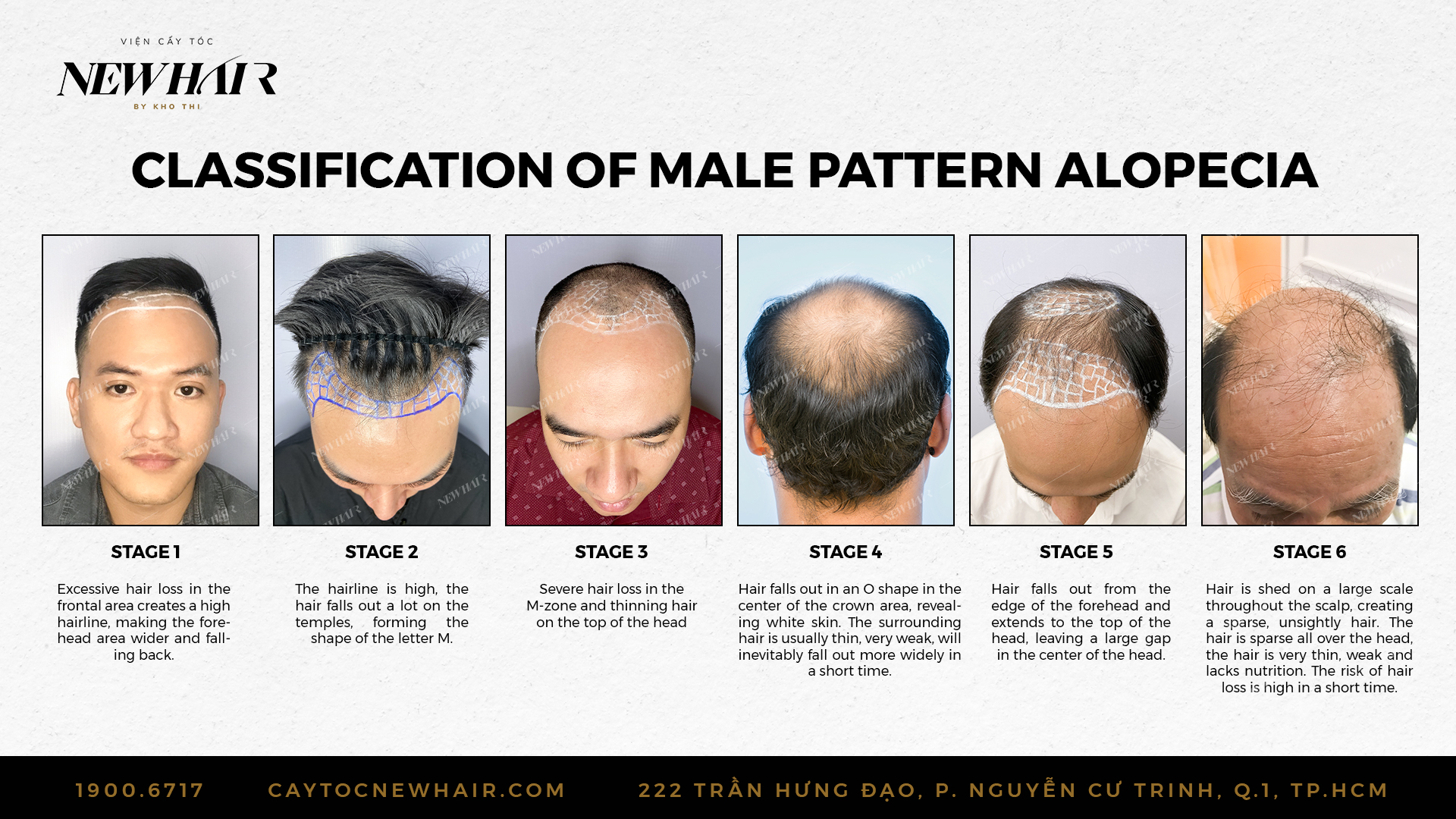 Advantages of FUE natural hair transplant method:
FUE natural hair transplant method is a non-invasive technique. Therefore, it is painless, does not leave scars and causes no complications.
It ensures efficiency and aesthetics. Some hair loss conditions come from genetic causes. Therefore, the use of other methods is no longer suitable because the efficiency is not as high. However, with FUE natural hair transplant technology, the success rate is at least 95%.
It can solve necrotic hair follicle problems. Traditional treatments mainly focus on replenishing the hair's surface. Therefore, it is not possible to fix the core problems inside the hair.
It has high adaptability. The method uses the patient's own natural hair follicles, so the compatibility is high. Also, it does not cause hair rejection, allergies, or inflammation.
Hair grows permanently after transplant. Hair after the transplant will grow in its life cycle like other normal hairs. Not only that, the hair also grows healthy, thick and beautiful and ensures high aesthetics.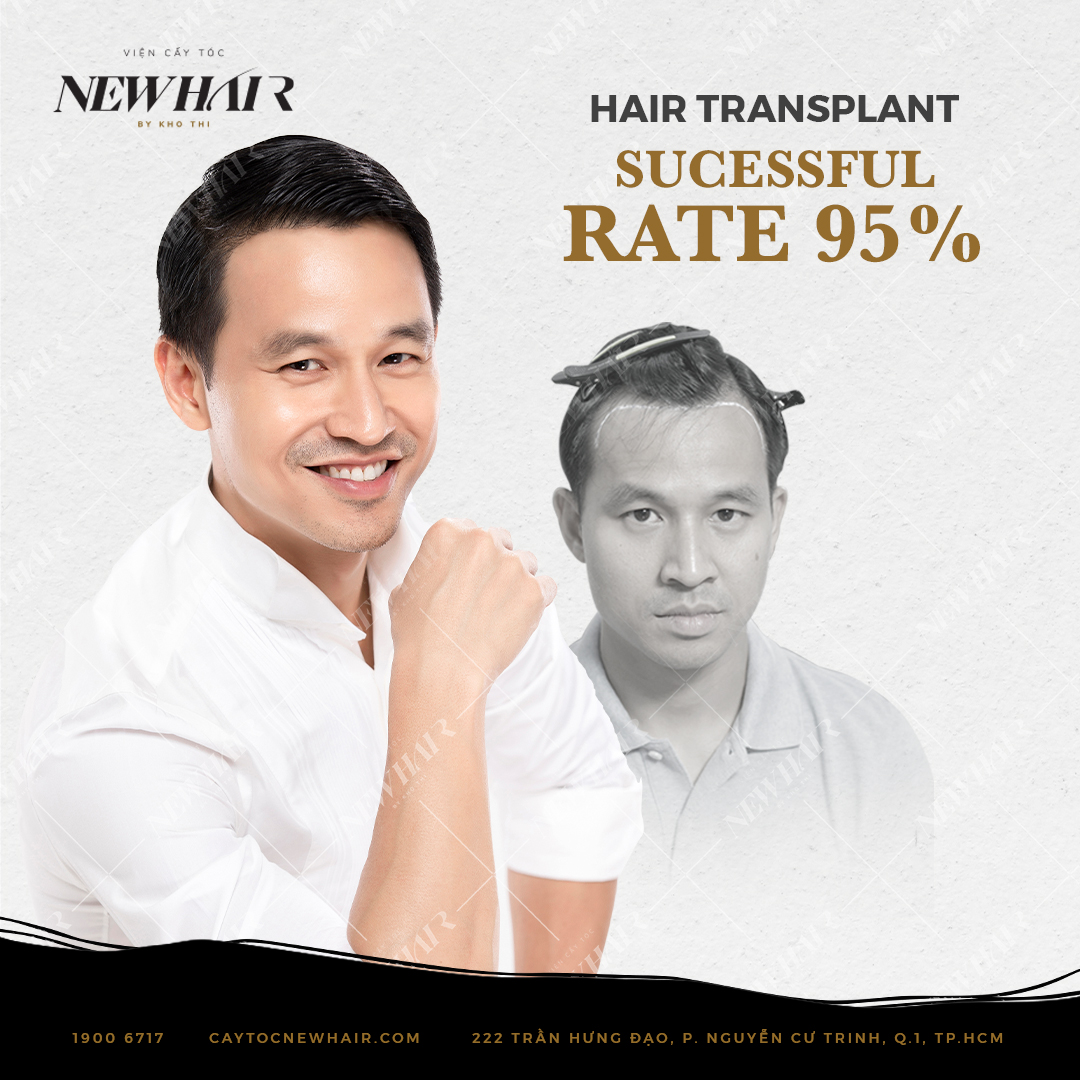 2.2. HAT Autologous Hair Transplant
HAT is also an innovative FUE technology. These two techniques, HAT and FUE, mainly differ in the devices used. For example, the tip of the hair removal needle and the implant tip of the HAT technique are smaller. HAT technology is more precise, therefore hair after transplanting will be more natural. Besides, the hair density will be thicker.
The differences between HAT and FUE technology:
Single cyst (1 hair)
Diameter of implant pen: 0.6 – 0.8mm
Time taken: 4-8 hours
Men with baldness problems can learn more about Male Hair Transplants here
2.3. FUT Autologous Hair Transplant
FUT, Follicle Unit Transplantation, is a technique in which hair is removed from the back of the ear or the back of the neck, where the hair grows strongest. The doctor will separate each hair root, select the healthiest hair follicles to transplant into the bald area. The hair donor scalp will be sewn closed with special techniques.
Some features of FUT technology:
Quick implementation time, only about 4 hours
Relatively low cost
Leaving scars and making the hair donor skin area become dead skin
Leaving a lingering feeling of pain.
This method has the advantages of fast implementation time and low cost. However, stretching the scalp will cause pain and scarring. Moreover, the hair donor area then becomes dead skin. In about 5-6 years, when you touch the donor scalp, it still hurts.
>> More information quy trình cấy tóc tại New Hair
3. Who Should and Should Not Have Hair Transplant?
Although it is a safe method, there are still some cases that are not suitable for applying
autologous hair transplant method. Below are specific subjects that are suitable and not
suitable for this method.
3.1. Who are suitable for autologous hair transplant?
The hair transplant method is suitable for the customers who:
Have enough hair to donate.
Have a lot of hair loss, making the bald area clearly visible
Are male or female over 23 years of age
Are healthy male or female, without any condition that could increase the risk of complications after surgery
Want to change to have naturally thick hair.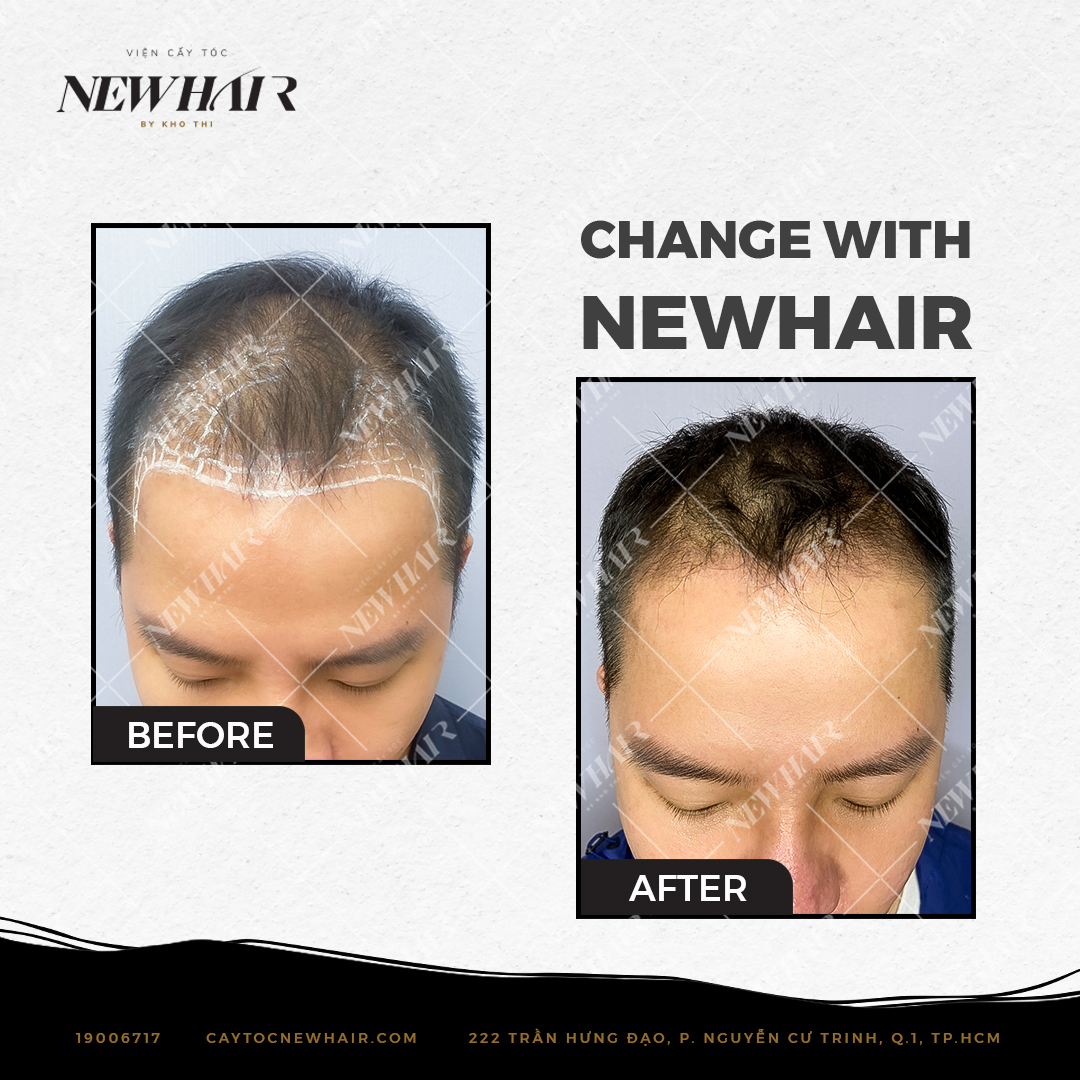 Based on the characteristics of baldness and the degree of hair loss, hair transplant methods are divided into the following common types:
● M-shaped hair transplant on both sides of the forehead and the temples
● U-shaped bald hair transplant
● 0-shaped bald hair transplant, top hair transplant
● Full head hair transplant
● Bald hair transplant in the forehead due to high forehead, protruding forehead
High forehead hair transplant – an effective forehead reduction hair transplant method
which may draw your interest.
Có thể bạn sẽ quan tâm: Cấy tóc che trán cao – Phương pháp cấy tóc thu gọn vùng trán hiệu quả
3.2. Who should not use autologous transplant?
There are many people who suffer from baldness, hair loss and want to fix it to improve the aesthetics of their hair. However, not everyone can carry out a hair transplant successfully and bring good results. Specifically:
Women who are pregnant or breastfeeding should not have hair transplants because it may affect the fetus.
People who are undergoing chemotherapy or radiation therapy should not have hair transplants.
Hair transplant should not be done for people at a young age (under 23 years old)
It is not for people with severe diabetes or diseases with a high risk of infection.
Because the hair transplant method uses 100% of the customer's hair. Therefore, if you do not have enough donated hair, you will not be able to perform this technique.
It does not work on keloid scars on the scalp due to trauma or birth. Because the scar area is dead skin, even after a successful hair transplant, the hair germ cells cannot transport nutrients to grow hair.
Individuals with infectious diseases (Specifically HIV, end-stage hepatitis, gonorrhea, syphilis, or genital warts).
4. Is Hair Transplant Permanent? What Is the Process of Recovering the Transplanted Hair Area?
Autologous hair transplant can be considered a long-term solution to balding and thinning hair. However, doctors cannot guarantee that the transplanted area will be permanent because this hair will work and grow like other natural hair areas. They can grow, lengthen, shed, then regrow according to the normal cycle of a hair. The recovery time of hair after transplant depends on each person's body and the skill of the doctor. The average hair recovery cycle after transplantation is as follows:
After 1 to 2 days, the transplanted hair area may still be swollen or drained. Customers need to change the bandages and clean it according to the instructions of the hair transplant clinic.
After 1 week, the transplanted area is recovering. Customers take care of themselves at home and pay attention to avoid forces on the transplanted hair area such as combing or pulling hair. The hair follicles still need time to absorb nutrients and firmly stick to the scalp.
After 2 weeks, the implanted skin area is usually scaly, but you definitely should not peel of the scales on the scalp. You can start washing your hair in combination with the hair oil prescribed by your doctor.
After 1 month, the hair has attached to the scalp. You still need to avoid the sun and limit the dirt on your hair. Helmets should not be worn during this time and regular scheduled visits are recommended.
After 3 months, the hair has grown evenly and the roots are more firmly attached to help them start to grow and lengthen like normal hair follicles. You still need to maintain hygiene and conduct thorough hair care.
After 6 months, this is the time when you can enjoy the results after hair transplant with stable hair growth. Your hair will grow as normal. However, you still need to pay attention to the activities that affect this hair area such as washing your hair gently and avoiding pulling the hair.
After 1 year, you can wash, curl, dye your hair as you like, but overuse of chemicals can weaken your hair.
>> More information: Những lưu ý trước và sau khi cấy tóc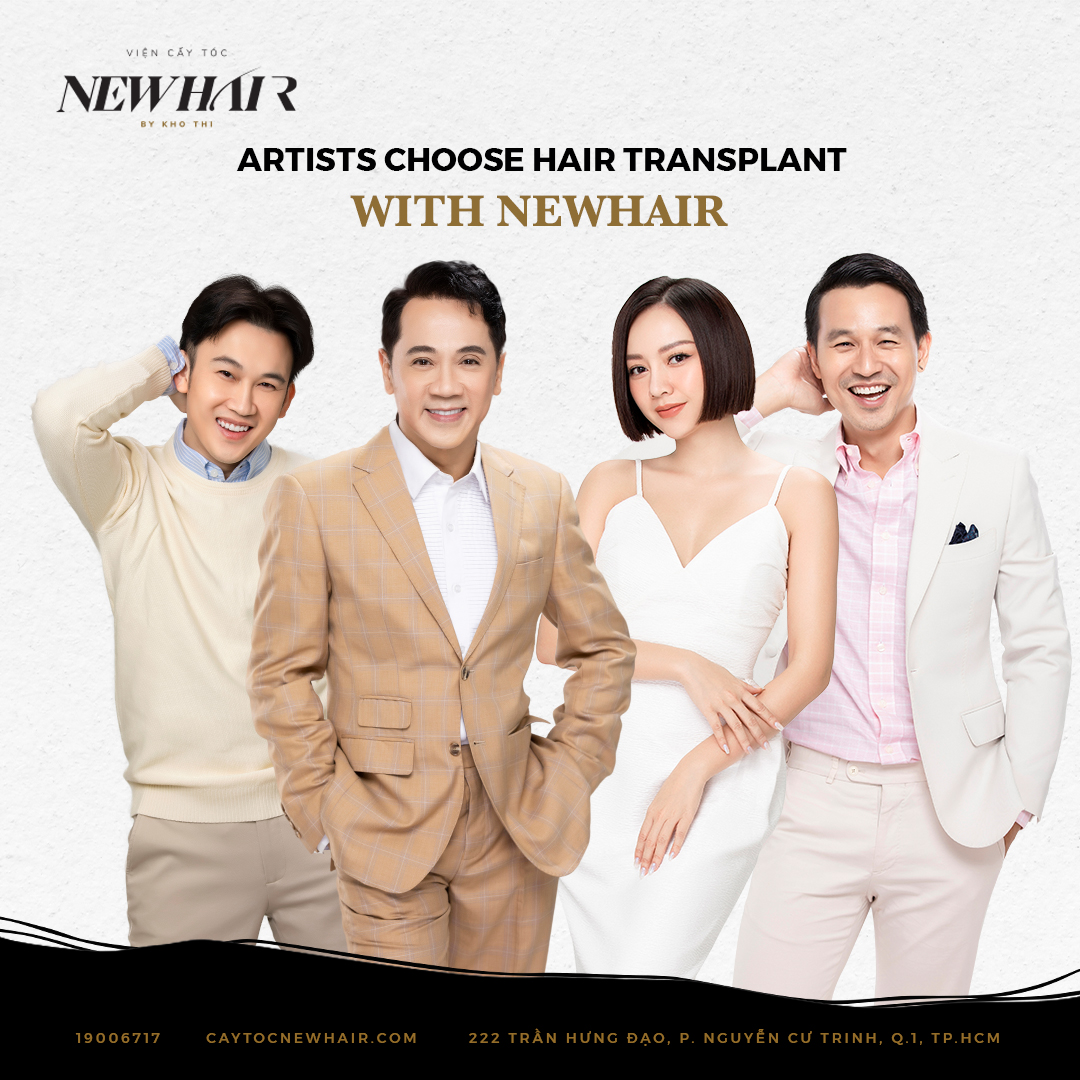 5. Photos Before and After Autologous Hair Transplant at NEWHAIR
The effectiveness of the NEWHAIR autologous hair transplant service has been proven in practice with many successful hair transplant cases.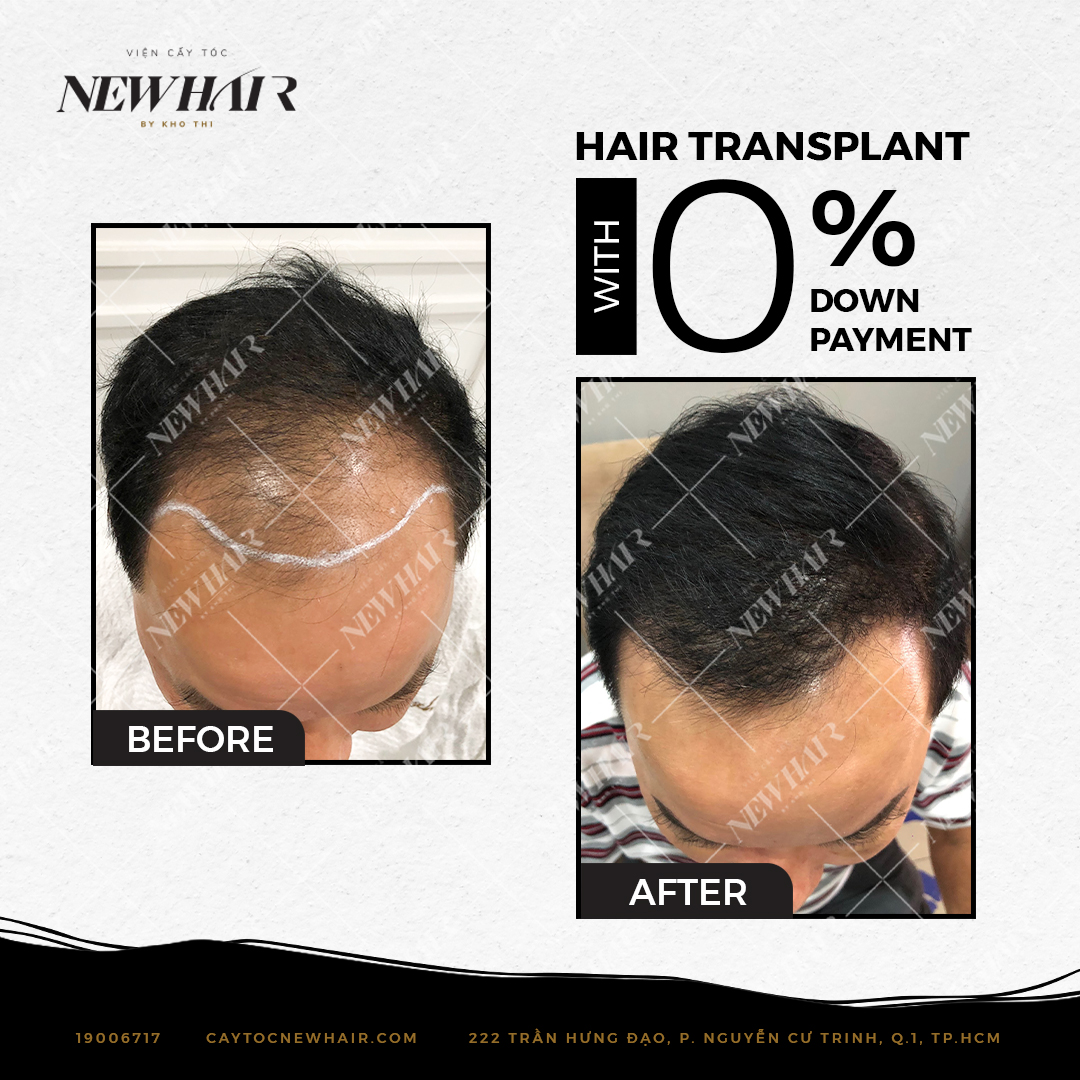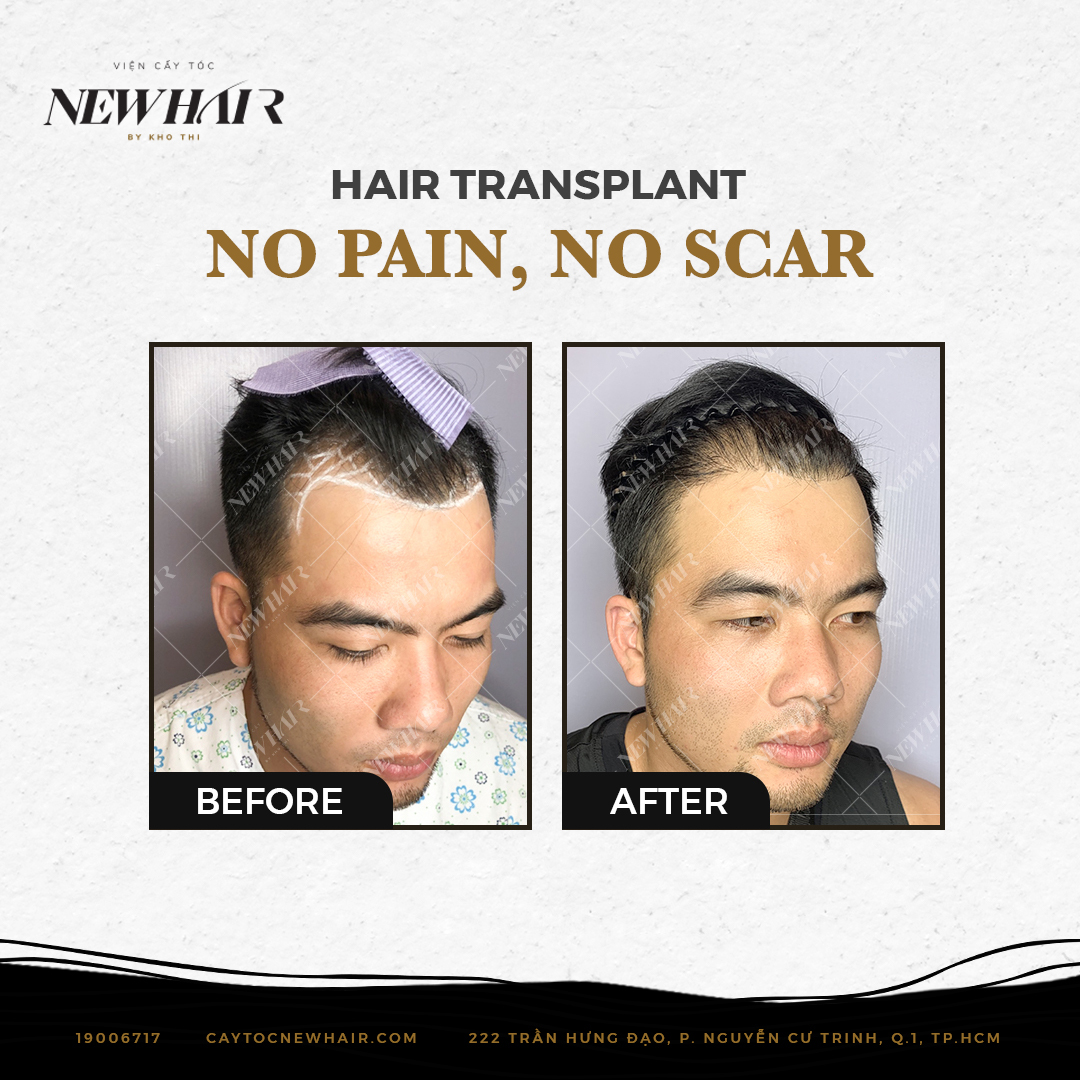 You can be assured because before performing a hair transplant, the staff of NEWHAIR Transplant Clinic will conduct a thorough examination of your hair condition as well as your needs. Then, based on the actual situation of hair and economic conditions, NEWHAIR will provide suitable options so that customers can make the best decision.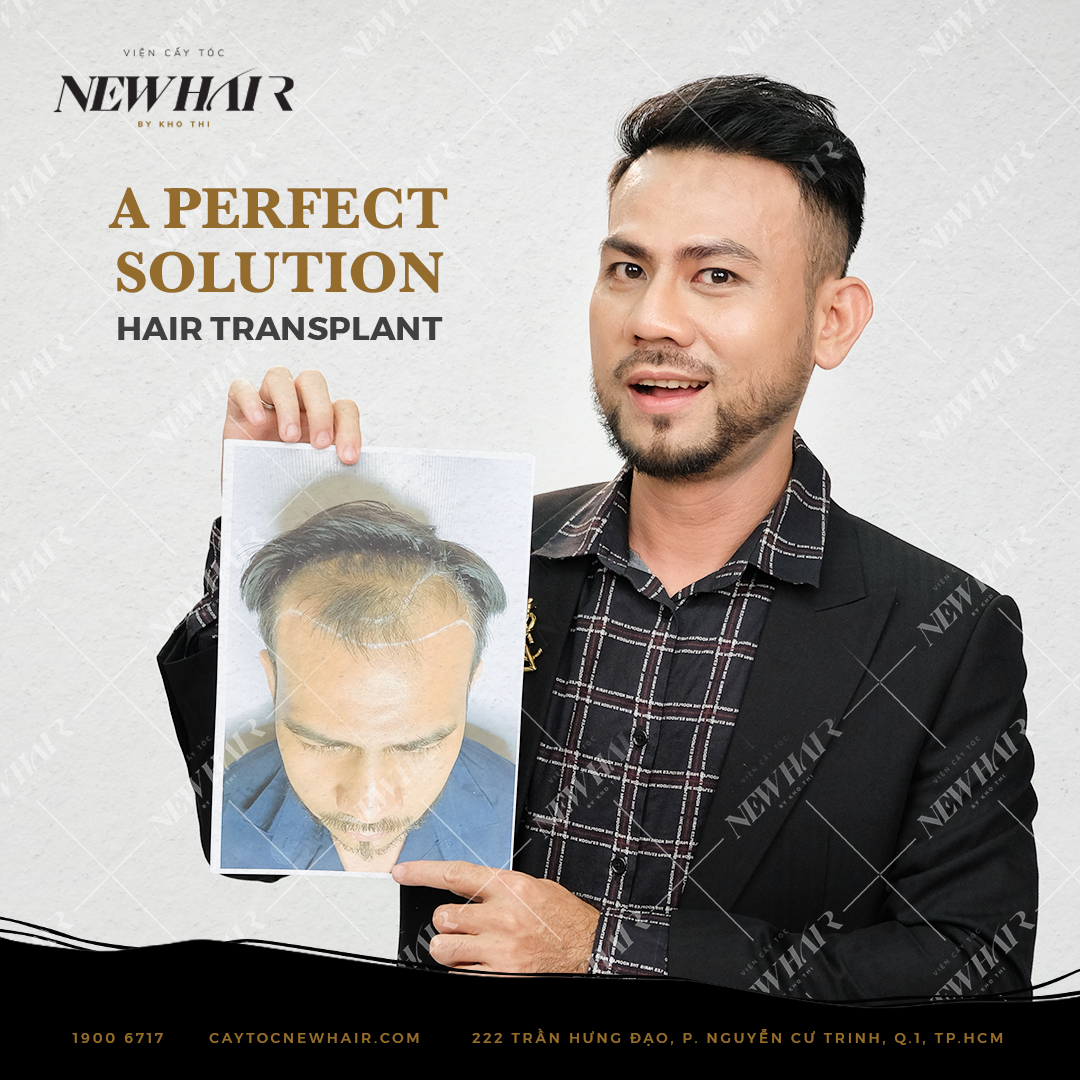 >> Xem thêm: Review hiệu quả cấy tóc tự thân
With international standard facilities as well as is constantly upgraded equipment and machinery, NEWHAIR Clinic, one of the leading hair transplant clinics in Ho Chi Minh City, is confident to bring customers the best experience with definitive baldness treatment after just one transplant.
The video of autologous hair transplant at NEWHAIR Clinic:
6. Seven Frequently Asked Questions about Autologous Hair Transplant
6.1. Which hair transplant method should I choose?
Doctor's answer: There are two main types of hair transplants, follicle unit transplantation (FUT) and follicle unit extraction (FUE). Both methods of hair transplant have their own advantages and disadvantages as described above. So, depending on your needs and financial ability, you can choose the most suitable hair transplant method for yourself.
6.2. Is autologous hair transplant expensive? How much does it cost?
NEWHAIR Transplant Clinic determines the price of hair transplant in follicle units.
The price of autologous transplant at NEWHAIR is only from 62,000vnd/follicle units.

The promotional offer for hair transplant is 0% interest installment.
6.3. Is the recovery process of the transplanted hair the same as normal hair?
Doctor's answer: Yes, it is. You can completely treat the transplanted area like normal hair when it starts to grow back and lengthen. In order to have the best hair transplant results, in the first time, you need to treat the hair transplant area more specifically according to the care instructions of the doctor. The recovery process of the transplanted hair area will depend on many factors such as the skill of the doctor, the method of implantation and your own body. However, be assured because you only need 6 months to 1 year to be comfortable and confident with your new hair.
6.4. Does autologous hair transplant leave scars?
Doctor's answer: Whether autologous hair transplant leaves scars depends on the transplant method. If you choose FUE hair follicle transplant method, there will be no scars, no scalp invasion thanks to modern transplant technologies and advanced transplant methods.
6.5. Is it possible to transplant hair onto scarred skin?
Doctor's answer: In terms of the mechanism of action and development of hair follicles, hair will only be able to survive in an environment with blood circulation and enough nutrition for the hair roots. Depending on the scarring status, the scar tissue may have little or even no circulation of blood vessels and sebaceous glands. Hair transplant on the scar will not bring the desired effect because the transplanted hair follicles do not have enough nutrition to survive and grow like other natural hair areas.
Learn more about: How much does a hair transplant on a scar cost?
6.6. Is autologous hair transplant painful?
Doctor's answer: Everyone's pain threshold is different, so the question of whether a hair transplant is painful is hard to answer. In general, during the hair transplant process, anesthesia is used, so it only causes mild discomfort and the recovery time is quite fast.
6.7. Does autologous hair transplant have side effects?
Doctor's answer: Autologous hair transplant is considered the safest method today to help solve baldness, thinning hair, and high forehead. Autologous hair transplant has no side effects if you choose the right reputable facility, the right transplant method and the right post-transplant care. The highlight of this method is that it uses real hair, completely natural hair, for hair transplant, so it does not cause irritation or incompatibility.
If you still have any doubts about autologous hair transplant, do not hesitate to pick up the phone and call the hotline or go directly to NEWHAIR Transplant Clinic by Kho Thi for more specific advice.