A TEAM OF HIGHLY QUALIFIED AND EXPERIENCED DOCTORS
With a long-term mission for development and being the leading clinic in hair transplant and hair loss treatment services in Vietnam, NEWHAIR has focused on investing and developing human resources right from the early days of establishment. NEWHAIR Transplant Clinic by Kho Thi is a gathering place of leading experts in hair transplantation, hair restoration, and hair loss treatment. Thanks to professional skills, the latest updated cosmetic trends, and great experience, NEWHAIR doctors will bring you desired hair transplant results.
1. 1. BEING LED BY DOCTOR ALY STEPHEN NAH, PhD, THE WORLD'S TOP NATURAL HAIR TRANSPLANT
Around 5-6 years ago, natural hair transplant was a very strange concept in Vietnam. To overcome congenital baldness when there are no hair follicles under the scalp, many people were willing to spend a large amount of money to go to Thailand, Singapore or Taiwan for hair transplant. Seeing her friends, relatives and especially artists in showbiz having difficulty with their hair, Miss Thu Hoai, the founder and CEO of Kho Thi Beauty Spa and Clinic, was determined to bring autologous hair transplant technologies to Vietnam and then established NEWHAIR Transplant Clinic by Kho Thi.
Miss Thu Hoai has embarked on researching, negotiating, and cooperating with leading hair transplant professionals in the region. The most effective move was the cooperation and transfer of hair transplant technology with Doctor Aly Stephen Nah, PhD who is known as "The Golden Hand" in the hair transplant and restoration field with more than 15 years of experience working at the top-notch international medical and aesthetic institutions such as Singapore Medical University, Singapore Hair Transplant Clinic, Malaysian Ministry of Health, Kuala Lumpur Medical Center, LAFA Medical Group, Royal British College, British Medical Group, and American Hair Restoration Clinic.
In 2004, Dr. Aly Stephen Nah, PhD, graduated from Medical School at the University of Malaysia and practiced at Tengku Ampuan Rahimah Hospital, Klang. He served as a medical officer in the otolaryngology field and was later promoted to the Chief Assistant Manager in the division of controlling private medical practice of the Malaysian Ministry of Health.
In 2014, Dr. Aly joined DHI Medical Group and was trained and certified in the field of hair transplantation. He was appointed as the chief executive physician in Southeast Asia of DHI. His specialty is hair restoration through hair transplants and other non-invasive treatments.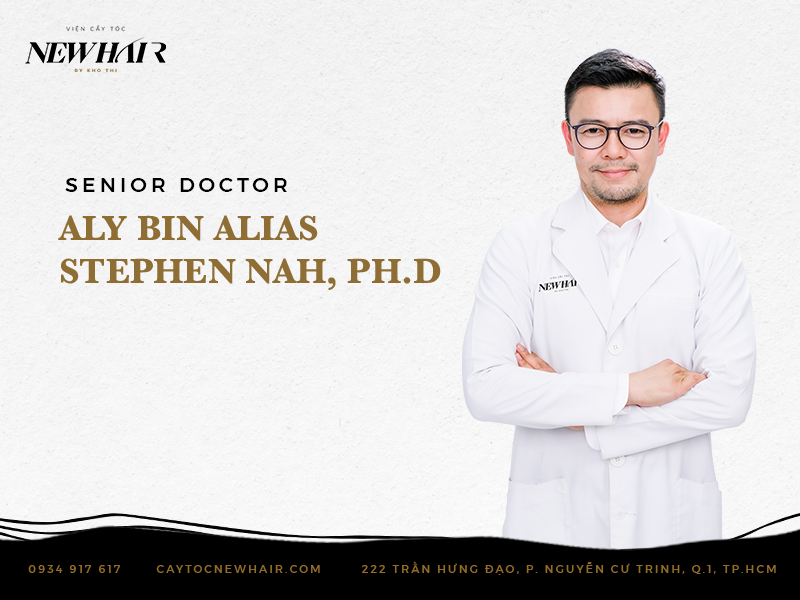 With a passion for regenerative medicine, Dr. Aly founded a hair transplant clinic in 2018 in Kuala Lumpur called Hair Transplant Solutions (HTS) committed to providing the best hair transplant solutions. The clinic is approved and managed by the Malaysian Ministry of Health.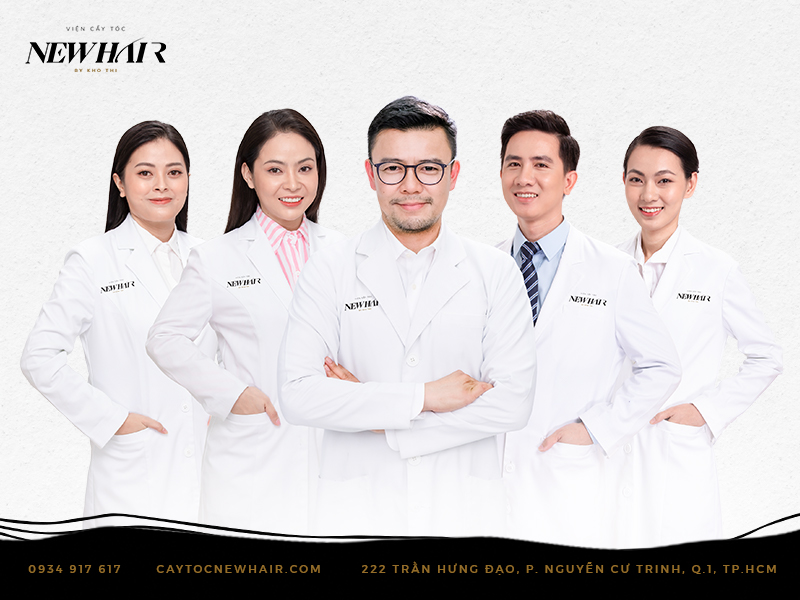 Currently, Dr. Aly is a member of ISHRS (International Society of Hair Restoration Surgery) and an active speaker in several international conferences to share his expertise as a medical professional in the field of hair restoration. He is also a lecturer and trainer of the American Academy of Aesthetic Medicine.
Working at NEWHAIR since 2019 until now, Dr. Aly, PhD has become the leading hair transplant specialist who directly trains Vietnamese doctors at NEWHAIR to further improve their expertise in hair transplantation with FUE hair transplant technique combined with HAT.
2. 100% DOCTORS OF THE TEAM ARE HIGH-QUALIFIED
With many years of experience, NEWHAIR understands the most profoundly the role of the "human" factor in leading to beauty results, especially in the field of hair transplantation and restoration. Therefore, right from the first days of establishment, NEWHAIR has focused on building and selecting a highly-qualified team of doctors who have delicate aesthetic views and great care for customers. They are also always updated with the latest beauty trends.
In particular, the team of doctors at NEWHAIR all have many years of experience and have worked for many domestic and foreign cosmetology clinics.
The doctors are not only highly trained in hair transplant techniques but also have a good understanding of the hair restoration process, medical control, hair transplant care and many more. Over the years, NEWHAIR doctors have helped thousands of customers "revive" their hair to regain confidence with it.
When coming to NEWHAIR, you will be directly examined and consulted one to one with our doctor. At every single step in the hair transplant process, you are always closely monitored and cared for by a team of nurses. After finishing the hair transplant procedure, the nurses will always guide you specifically on how to use medicine, care for the transplanted area, clean it, and so on.
At NEWHAIR, we always aim to provide the best quality care for all customers. Doctors, nurses, and consultants always provide dedicated service to customers with their satisfaction as a top priority.
Are you ready to see your thick, plentiful hair of your twenties again? With all of their experience, expertise and mindfulness, the team of doctors in NEWHAIR will give you the most optimal solution for hair restoration. Contact hotline 1900.6717 or inbox New Hair's Fanpage for advice and examination with our doctor.