ENJOY LUXURY FACILITIES
NEWHAIR is a member of Kho Thi Group, a prestigious beauty clinic with more than 20 years of development and pioneering in the field of natural hair transplant, hair care, and restoration. Coming to NEWHAIR, you will have an opportunity to experience modern and advanced hair transplant technology transferred from DHI, a famous hair transplant association.
1. A LUXURY BEAUTY SPACE
As a member of Kho Thi Group, a high-class beauty clinic with more than 20 years of establishment and development, NEWHAIR is one of a few hair transplant clinics currently on the market that is well-invested in infrastructure.
Coming to NEWHAIR, you will experience a luxury, modern and airy beauty space with friendly and open smiles from a team of consultants, security guards, and nurses. Each area from the waiting room, re-examination room, examination room, treatment room and other rooms are reasonably arranged to help customers easily carry out procedures and feel comfortable when having hair transplant at NEWHAIR.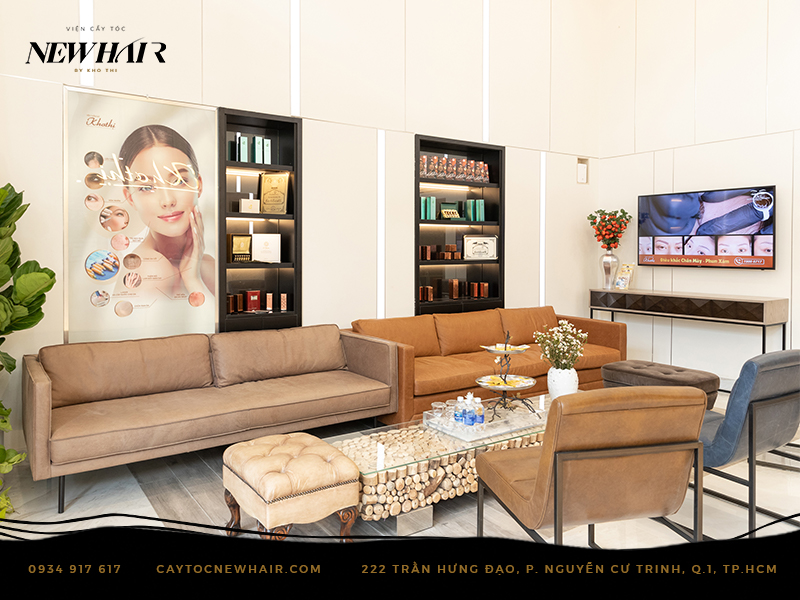 2. 100% IMPORTED MACHINERY SYSTEM
As one of the leading beauty addresses in Vietnam, NEWHAIR Transplant Clinic by Kho Thi always focuses on investing in beauty equipment and technology. Accordingly, 100% of the equipment for hair transplant procedures are imported from leading countries in the field of cosmetology, such as the UK, the USA, Germany and other countries. Besides, NEWHAIR also constantly updates trends as well as the latest hair transplant technology to bring better beauty experiences to customers.
The hair transplant area also always meets the standards of the Ministry of Health, ensuring absolute sterility. Besides, the waiting room system is designed separately with all necessary 5-star standard furniture, helping clients and their family feel secure to stay before and after the procedure.
NEWHAIR takes great pride in offering the most advanced baldness treatments with typical technologies such as:
Choi Pen – A Hair Implanter
Choi pen was invented in 1992 by doctor Choi, a Korean doctor. In the industry of hair transplant and restoration, Choi pen is an excellent tool for accurately and efficiently implanting hair follicles into the scalp, helping you to achieve natural hair transplant results.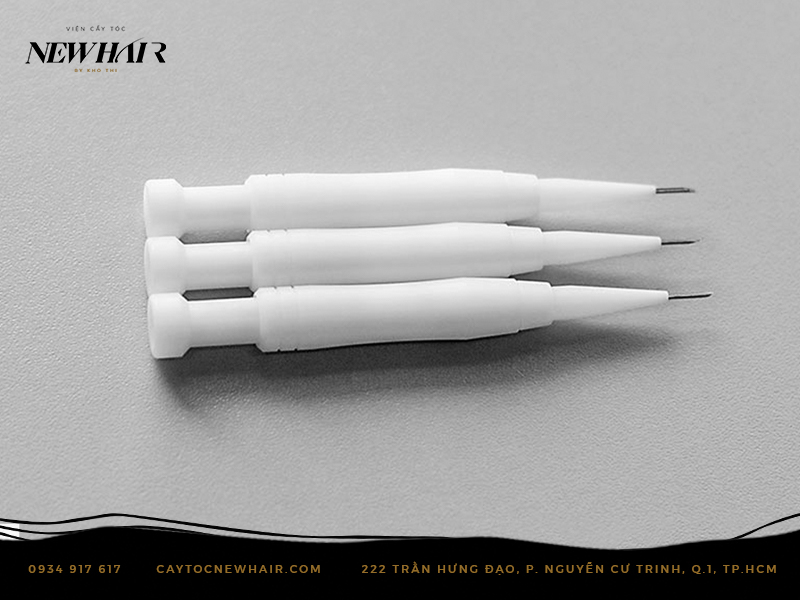 Like the shape of a pen, the tip of Choi pen has a 0.5 – 1.5mm hollow needle. Through this hollow tip, a doctor will insert the previously extracted hair follicles into the scalp. The doctor will insert the needle with the hair follicle attached at an exact angle of 40-45 degrees and perform the hair transplant by pressing the plunger down. This operation will be repeated several times until the bald area is filled. Depending on the hair quality, the number of hair follicle units, the doctor can change the needle size of the Choi pen, but on average, in a hair transplant, the doctor can alternately use about 6 Choi pens.
Thanks to Choi pen, hair follicles are implanted into the scalp without skin incision and with very little invasive area. The hair follicles are also better preserved. At the same time, while the hair follicles are transplanted, the adjacent hair follicles are also less affected.
Advantages of Choi pen:
Higher percentage of healthy hair follicles that can survive.
Higher density of hair transplants – up to 70 units per 1cm2
Lower level of bleeding and damage to the receiving site.
Lower risk of infection.
Faster recovery after the hair transplant procedure.
Choi pen is a tool designed to help address baldness problems, primarily in Asian men, whose hair is denser than the hair of Caucasian and African people. Therefore, it can be said that Choi pen is best suited for Asian thin hair texture.
Hair loss treatment with LED lights
During the Micro-spot Nano Ion Hair Cells Injection procedure, you will experience LED light technology to help increase the effectiveness of hair loss treatment and stimulate hair growth. This technology uses the energy of red light to stimulate the growth of hair follicle cells, heal cell damage, bring oxygen and nutrients to the scalp, promote blood circulation, and create a healthy environment that helps hair grow.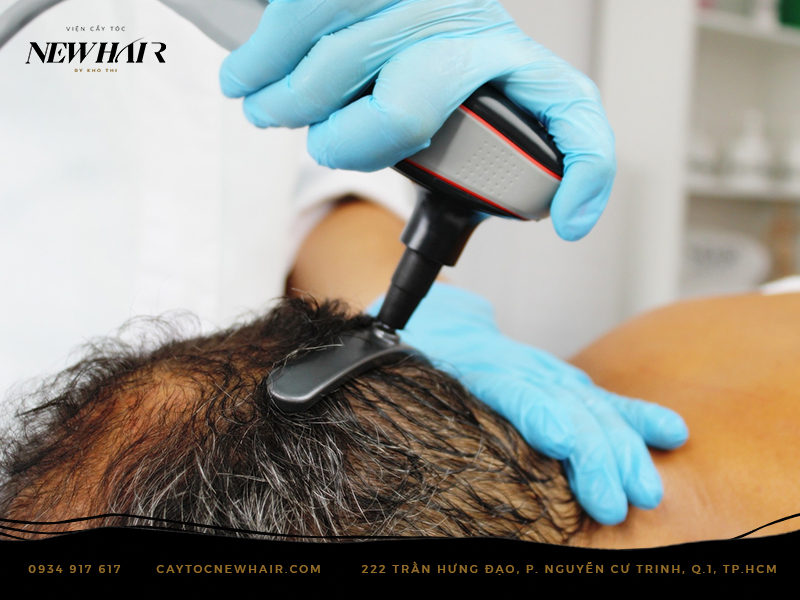 Indiba machine
To optimize the results of non-surgical hair loss treatment, NEWHAIR has updated its Indiba technology to use 448 kHz radio frequency capacitive radio waves in the treatment of hair loss. This frequency creates thermal and sub-thermal effects, enhances blood circulation and restores healthier hair follicle cells, thereby helping to improve hair and scalp problems without pain or downtime.
After all, what we care about is the outcome and satisfaction of our customers when choosing NEWHAIR to improve hair problems. That's why NEWHAIR never "regrets" when investing in beauty technologies. If you want to enjoy a luxurious beauty space, modern hair transplant technology, and professional service, please visit NEWHAIR immediately!